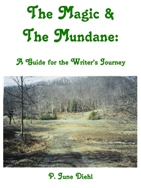 The Magic & the Mundane: A Guide for the Writer's Journey,
is now available.
To order your copy, click here. If you wish an autographed copy, click here.

LATEST NEWS:
I will be attending the James River Writers Conference in Richmond, VA, Friday and Saturday, September 28-29, 2007.
For conference information: JRW Conference

The Muse Online Writers Conference
Dates: October 8 - 14, 2007
Registration Now Open!
I'll be presenting a week long workshop and a chat session entitled: What an Editor/Publisher Expects from Your Submission
For information and to register, click here.

© 2007 by P June Diehl