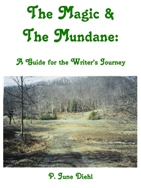 Five out of Five Stars, 21 Apr 2006
by Roger Baker
This book is a wonderful guide in the writing journey. It is a tremendous help. The way June wrote it, it feels like I am sitting in front of the fireplace having a casual conversation with Esumera. This is in no way preachy like most textbooks. Kudos to you June! I highly recommend this book for anyone writing.
The Magic and the Mundane [ No Rating ] 21 Jan 2006
by stonecoldmjd
One of the best writing books I've ever read. The author takes us on a tour of the writing world. She speaks directly to us and sometimes to her cat. I've never learned so much from a writing book I actually enjoyed reading. All the benefits of a novel & you learn, too!
by Mari COnners
Iíve just read Chapters I and II, and know this is the book for me. This is a practical, hands-on, tool for all writers, I have a feeling, both experienced and new. The title is apt, because I was magically drawn toward the authorís invitation to join her on a journey, one on which I seem to have new visions, and deeper understanding on the subject. The exercises are delightful. They are already leading me onward, and awakening my muse! As for the mundane, well, we writers know all about it, and reminders, such as the benefit of practice and accumulation of pedagogy, are well represented. The book is bursting with invigorating suggestion. Iím excited about it.
NOTE: Reviews can be found at:
The Magic & the Mundane

© 2007 by P June Diehl